A. L. LEVIS
"A. L. LEVIS
EST. 1896
SODA WATER ICE CREAM & LIGHT
LUNCH"
Established in 1896, this sandwich shop operated continuously for nearly 100 years. Known for their hot dogs, sandwiches, fish cakes, ice cream and signature soda, Champ Cherry®. You can read a little about the history of Levi's here.
Here's a photo from 1961, with all the signage still intact: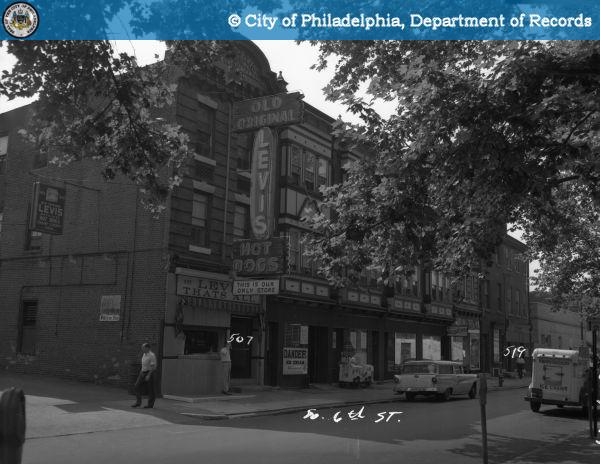 PhillyHistory.org. Philadelphia Department of Records. 10 June 2010. http://www.phillyhistory.org.
The large vertical neon hot dog sign visible on the front of the building in the above photo was restored by the Davidson Neon Museum and in this photo is sitting atop the North Star Bar at the corner of 27th and Poplar Streets:

UPDATE: According to the North Star Bar, the neon sign has been removed from the 27th and Poplar location and is currently in cold storage.
Original location, 6th Street between South and Lombard [map]