John A. Roebling's Sons Co.
Large, barely legible sign.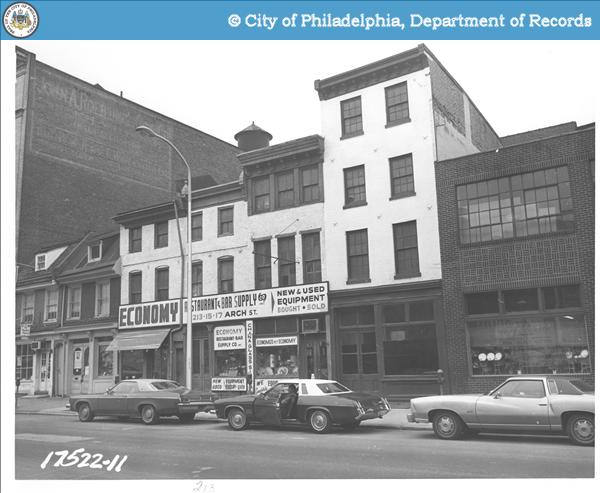 Other views, 1977. From these, I can discern the top line "John A. Roebling's Sons Co."
John Augustus Roebling (1806 – 1869) was a German-born American civil engineer. He is famous for his wire rope suspension bridge designs, in particular, the design of the Brooklyn Bridge. He operated wire rope and cable plants in Trenton and Roebling, New Jersey. Unknown if this building was somehow connected to the business or just an advertising space.

Same sign in 1964, upper left corner, slightly more legible. I can make out:
"…PRODUCTS.
…NEW JERSEY … CO.
WIRE CLOTH … NETTING"

Here, you can see it peeking in the upper left corner.
Unknown date.

And here, you can just see it peeking in the upper right corner, taken 1935.

Another view, mid-80s?
PhillyHistory.org. Philadelphia Department of Records. 27 November 2007. <http://www.phillyhistory.org>.
Arch between 2nd and 3rd.